The best SSD for gaming will help you navigate your PC speedily and get you into your games at lightning speeds. Basically, a great SSD will give your entire system a boost, no matter what you do with it. Whether that's putting Windows 11  through its paces or quickly getting you into a massive game like Deathloop in a fraction of the time it took you before.
The performance difference between an SSD and a standard hard drive is pretty much night and day, and the same can be true between SATA drives and the best PCIe 4.0 SSDs. Suddenly everything is right there at your fingertips—the frustration of long boot times will be a thing of the past. Once you see games like GTA V load in seconds instead of minutes, there's no way you can go back. 
All the drives you see here have been tested rigorously through our own benchmarking suite, which includes real-world game loading tests and synthetic speed tests to find the very best SSD for gaming.  Each will have had a fresh Windows 10 install loaded onto it on the test rig, so we know how they will perform as your primary drive. We are still testing to see how these drives work on Windows 11, but you'll see our findings over time. 
Our pick of the top SSDs includes both 1TB and 500GB drives because smaller SSDs, though cheaper, lose performance. And, with some games taking up well over 150GB, a 250GB SSD isn't cutting it anymore these days. 
Our favorite Black Friday SSD deals
Best SSD for gaming
There are plenty of Black Friday SSD deals out there right now, but the ones below stand out to us as offering the best value. 
---
Our favorite WD Black SN850 config:
The Western Digital Black SN850 makes a fashionably late entrance to the PCIe 4.0 party. It can hit 7,000MB/s reads and 5,300MB/s writes in sequential transfers, which is well beyond most drives' capabilities. That's because it uses the latest PCIe 4.0 interface, which has double the theoretical bandwidth limit of other PCIe 3.0 drives.
Performance ultimately defines any SSD; the WD SN850 really stands out from the crowd. The synthetic benchmarks, spearheaded by ATTO and AS SSD, show that this is very much a second-generation PCIe 4.0 drive, with peak sequential read speeds knocking on 6,750MB/s and 5,920MB/s, respectively. Writes are lower than the Sabrent Rocket 4 Plus but still healthy, at either side of 5GB/s. The 4K write performance in AS SSD manages to flip this over, and the WD SN850 outpaces the Sabrent drive. 
Out of the current PCIe 4.0 drives on the market, the SN850 is hands down the most impressive out of the gate with its impressive real-world performance though it does run a little hot. If you want the fastest next-gen drive, this is it, and it's suddenly incredibly affordable too.
Read the full WD Black SN850 1TB review.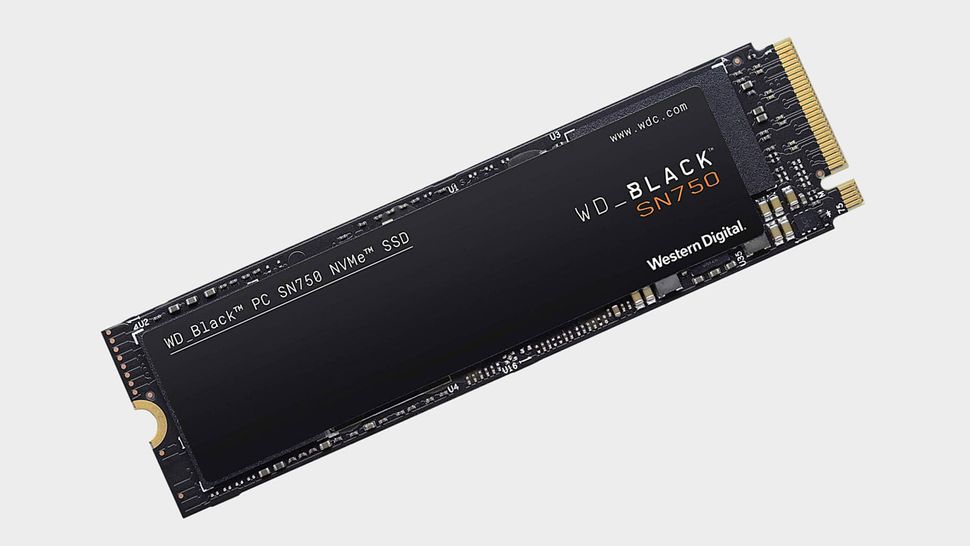 Our favorite WD Black SN750 config:
Like it's move into PCIe 4.0 drives, Western Digital's entry into the SSD arena as a whole was a long while coming, especially at the speedier end of the market. But the WD Black SN750 was worth the wait. It nails solid-state performance on par with the best consumer Samsung EVO SSDs and undercuts them on price too.
The combination of an in-house memory controller and Toshiba memory (also essentially in-house after the acquisition of the SanDisk/Toshiba memory division) means what we've got here is a drive that can match Samsung in its build methodology too. And that all means WD can be very aggressive on how much it charges people for the privilege of having a speedy PCIe SSD in their gaming PC.
There is a more expensive version on offer with a heatsink attached to it. Still, so long as you don't bury your drive in an M.2 slot beneath your GPU, you should be golden, and the SN750 will maintain peak performance without burning out.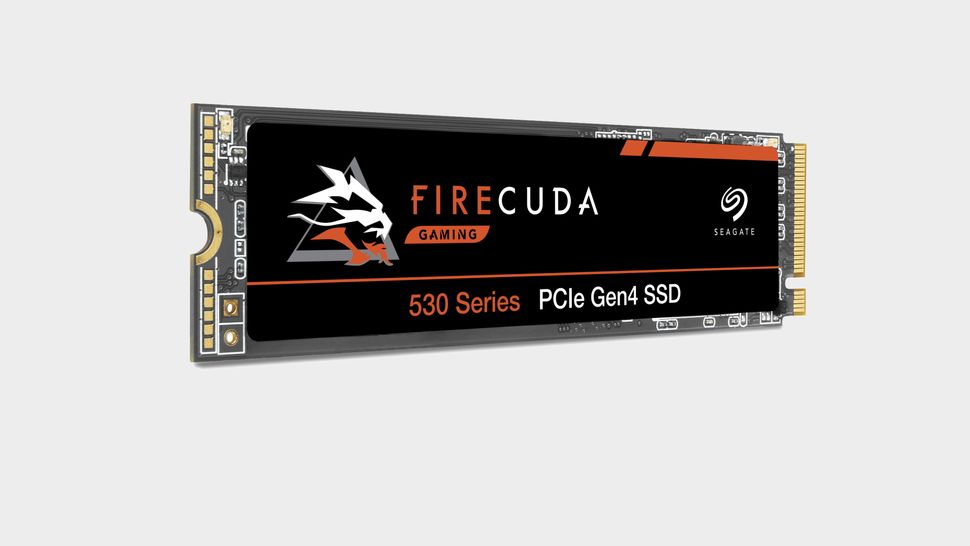 Our favorite Seagate Firecuda 530 config:
Of course Western Digital and Samsung are the big names in storage, and most especially in the world of SSDs. Seagate may have taken a while to get into the solid state game, and especially the PCIe 4.0 market, but it has arrived with a bang with the Firecuda 530. With or without the heatsink (something that's necessary for its PlayStation 5 compatibility) the latest Seagate drive is a stunner.
Of course the rated sequential read/write speeds are fantastic, but it's the endurance levels that really stand out compared to the competition. The 2TB drive we tested has an unprecedented 2,550 TBW rating when it comes to endurance, which is something you won't see this side of an SSD made for Chia mining.
It combines brand-new Micron 176-Layer TLC NAND—the same memory Crucial is using to great effect with the new P5 Plus drives—with a Phison PS5018-E18 controller. Micron claims that its 176L TLC NAND is the best in the industry with a 30% smaller die size and a 35% improvement in read and write latency over its previous generation 96L NAND.
And in terms of performance the FireCuda 530 either matches or beats the big bois of the storage world, and when you add its leading sequential performance and endurance rating, the Seagate 530 is at least the equal of any consumer SSD on the market. 
Read our full Seagate Firecuda 530 2TB review.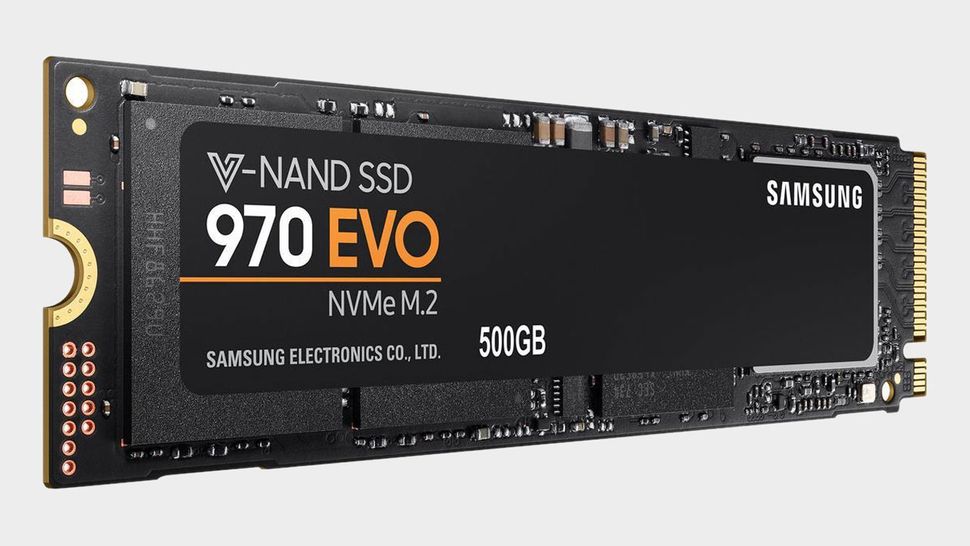 Our favourite Samsung 970 EVO Plus config:
The Samsung 970 EVO Plus offers a slight bump in write performance over the 970 EVO, all for the same price. There was a time when you could pick up the non-Plus version for slightly less, but those drives seem to have disappeared now. If you can find a straight 970 EVO for less, then go for it but they're a rarity.
Both drives still use the same Samsung Phoenix controller, which means they can outperform the competition in real-world usage. If you want peak PCIe 3.0 performance, then the Samsung drives are hard to beat, but you have to pay for that little speed hike. Compared with the 512GB Addlink, the Samsung is a little quicker in real-world testing but costs another $20.
That's not a huge issue at this half-terabyte level, but when the 1TB version comes in at close to $170, it does make the higher capacity 970 EVO drives a bit more of a difficult recommendation. The 500GB 970 EVO is still a great drive, smartly specced, well-made, and with a more competitive price.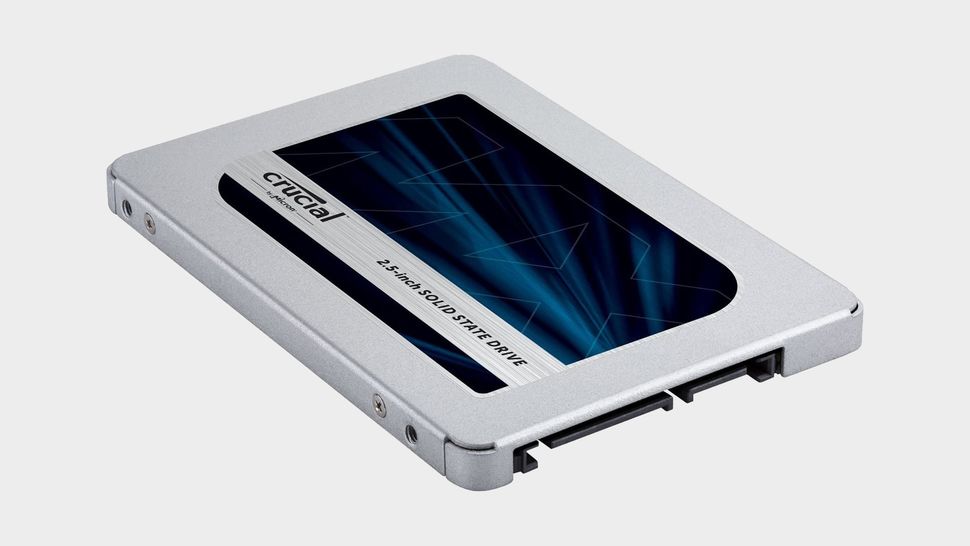 Our favorite Crucial MX500 config:
It seems strange that the Crucial MX500 is the only SATA drive left on our list of the best SSDs for gaming, but when the price delta between PCIe and SATA is so small, it's difficult to make an argument for the far slower technology. But, as there is a hard limit on the number of M.2 slots on your motherboard, there is still a place for SATA SSDs as secondary storage.
And the Crucial MX500 is one of the best. With SATA's maximum theoretical bandwidth limit of 600MB/s, it's nearly as quick as you'll get, and Crucial's drives have long been among the best-value options available too. This is the most affordable 1TB SATA drive you can pick up and make a great second home for your Steam and Epic libraries.
It will happily function as a boot drive on systems with no M.2 sockets, or at least no bootable M.2 sockets anyway. You will still be missing out on the zippy response of your operating system running on the SSD-specific NVMe protocol, but if that's not an option anyway, this drive will see you right.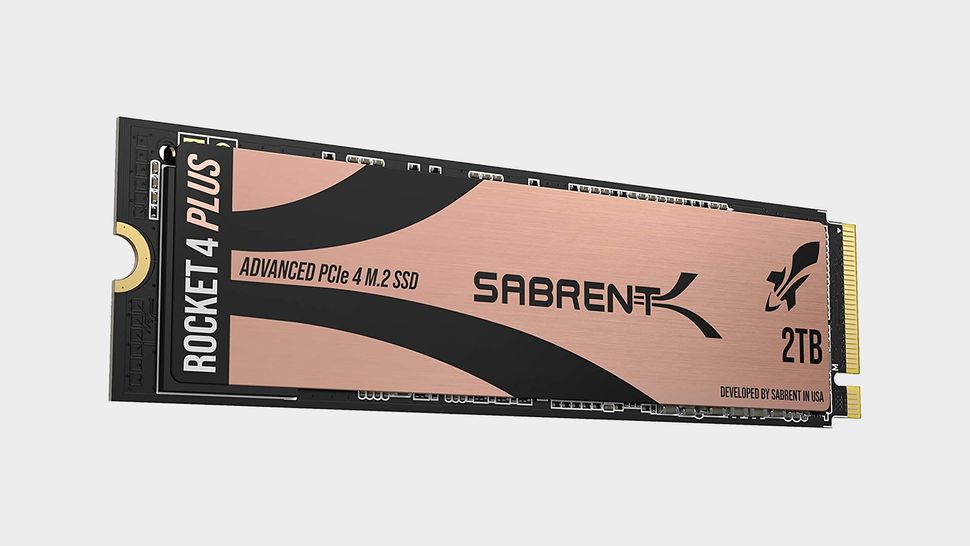 Our favorite Sabrent Rocket 4 Plus config:
The Sabrent Rocket 4 Plus was one of the first drives to use the new Phison E18 controller; the follow up to the immensely popular Phison E16 controller found in basically every first-gen PCIe 4.0 drive. No, seriously, that's the controller you'll find in everything from the Corsair MP600 to the Gigabyte Aorus to the Addlink S90 as well as plenty of Sabrent's own drives. 
It topped out at just over 5,000MB/s for reads, and 4,400MB/s writes, while the best PCIe 3.0 drives managed reads of 3,500MB/s and writes of around 3,000MB/s. 
This new Phison E18 controller ups the ante significantly, offering sequential throughput of up to 7,100MB/s reads and 6,600MB/s writes. The theoretical limits of the interface are 8GB/s for both, so those figures aren't far off how fast you can expect PCIe 4.0 to go. It's incredibly fast basically, and on paper at least, the fastest drive to be released so far.
On to the performance, and it's here where Sabrent's latest drive impresses almost effortlessly, especially when it comes to the synthetic throughput. The sequential read and write figures in both benchmarks are impressive, but it's the write performance that stands out most, leaving the competition eating dust. The Samsung 980 Pro in particular really struggles to keep up with the Sabrent Rocket 4 Plus.
The PCMark 10 storage tests are a bit more off the pace though, with both the Full and Quick benchmarks showing the Sabrent lagging behind the Samsung 980 Pro and the WD Black SN850. The Final Fantasy XIV: Shadowbringers benchmark loaded the levels in just over seven and a half seconds, which is notably quicker than the first generation drives, although behind the WD Black SN850.
If you want the very best performance, then the WD Black SN850 just has the edge over this drive. That SSD does run hotter than the Sabrent Rocket 4 Plus though, a good 12­°C hotter, something that in a cramped case would have us recommending the Sabrent in its place. This drive is also often $50 cheaper than the 2TB WD Black SN850, which makes this a better value proposition.
Read the full Sabrent Rocket 4 Plus 2TB review.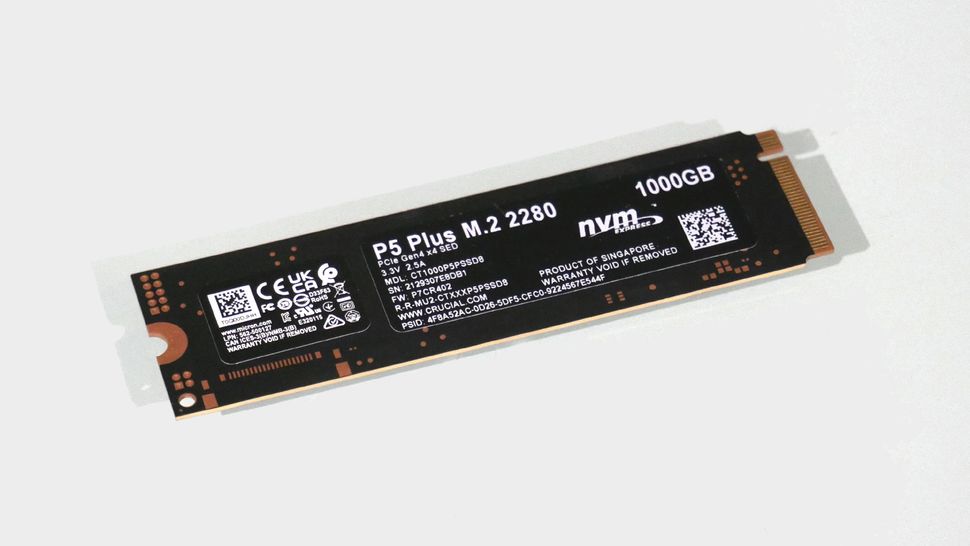 Our favorite Crucial P5 Plus config:
Crucial is one of the big names in affordable solid state storage, but has been notably slow at getting us a new PCIe 4.0 SSD. It's been worth the wait, however, as the new P5 Plus is a fantastic entry-level Gen4 SSD. It may not have the peak speeds of the WD or Sabrent competition, but it can make a big splash in terms of those all-important price/performance metrics.
And, also importantly, it can easily outperform any PCIe 3.0 drive you can to mention, and for practically the same price. Even if you're not running a motherboard with a PCIe 4.0 interface this will still work in an older PCIe 3.0 setup, and at the limits of that connection.
Since the first Gen4 SSDs launched there has been a quite significant price premium as a barrier to entry, and with the P5 Plus that has come down a hell of a lot. Using parent company, Micron's latest NAND flash memory, and it's own in-house controller, Crucial has been able to keep costs down and performance up. 
In the rarefied air of PCIe 4.0 speeds it's maybe a little lacklustre in peak and random performance, but it's rocking TLC memory, not QLC, is still pretty damned quick compared to older drives, and is fantastically affordable.
Read our full Crucial P5 Plus review.
Best SSD for gaming FAQ
What's the difference between SATA and NVMe PCIe-based SSDs?
As the prices of NVMe SSDs fall every day, we don't see much difference in cost between the best NVMe SSDs and their SATA-based equivalents. When the cheapest 2.5-inch 1TB SATA SSD is only $24 less than an equivalent capacity NVMe PCIe drive (and four times slower), why bother with older SATA technology when you can move into the future for so cheap?
Many of the best SSDs for gaming still use the PCIe 3.0 interface, but we're starting to see more PCIe 4.0 drives sliding into the market. Corsair was an early pacesetter here, and the newly launched 500GB Samsung 980 Pro SSD did well in testing, but the value proposition isn't the greatest, unfortunately.
Where SATA's theoretical performance limit is 600MB/s, and PCIe 3.0's is 4,000MB/s, the newer PCIe 4.0 SSDs can double that figure to a maximum of 8,000MB/s. The current top speed of available Gen4 drives is around 7,000MB/s, which is double that of the previous generation, top out at 3,500MB/s, in the real world.
How big an SSD should I buy?
The easy, slightly dumb answer is: as big as you can afford. With SSDs, the higher capacity, the quicker they are. That's because you end up with more memory dies plumbed into a multi-channel memory controller, and that extra parallelism leads to higher performance. 
We would traditionally say that an entry-level SSD should come in at least 512GB in order to pack in your operating system, for slick general system speed, and your most regularly played games. But such is the increasing size of modern games that a 1TB SSD is increasingly looking like the minimum recommendation. That's also where the performance starts to go up too.
Is PCIe 4.0 worth it for SSDs?
If you want the absolute fastest drives available then PCIe 4.0 SSDs are the way to go. They're quicker than any PCIe 3.0 drive, and will make large file transfers for such things as video editing lightning fast. They will also be prepared for the future of gaming in Windows 11 with the DirectStorage feature being used to take the load off the CPU and fire data directly at the graphics card to improve performance and shorten, or even remove, load times in tomorrow's open world games.
Can you put a PCIe 4.0 SSD in a 3.0 slot?
Yes, you can. They M.2 socket is identical between the two generations of interface and so a PCIe 4.0 SSD will fit comfortably inside a PCIe 3.0 slot. They will also function perfectly well too, except the Gen4 drive will be limited by the speed of the older interface.
That is is theoretically 4GB/s, but is actually closer to 3,500MB/s due to various overheads. PCIe 4.0 SSDs do cost more than their PCIe 3.0 counterparts though, so unless you're planning to upgrade to a supporting platform soon, it's probably worth sticking with a more-affordable PCIe 3.0 drive.
How do we test SSDs?
SSDs make your whole system faster and more pleasant to use. But they matter for gaming, too. A fast-loading SSD can cut dozens of seconds off the load times of big games like Red Dead Redemption 2, Call of Duty: Modern Warfare, or MMOs like Final Fantasy XIV. An SSD won't affect framerates like your GPU or CPU, but it will make installing, booting, dying, and reloading in games a faster, smoother process.
When shopping for a good SSD for gaming, one of the most important factors is the price per gigabyte. How much will you have to spend to keep a robust library of Steam games installed, ready to be played at a moment's notice? With many new games surpassing the 50GB and even 150GB mark, this becomes even more critical.
To find the best gaming SSDs, we researched the SSD market, picked out the strongest contenders, and put them through their paces with various benchmarking tools. We also researched what makes a great SSD great, beyond the numbers—technical stuff like types of flash memory and controllers.
PCIe 4.0 SSDs are supported by 2nd and 3rd Gen AMD Ryzen CPUs and X570 and B550 motherboards as well as by Intel's latest Rocket Lake platform. Sure, they're mighty for bandwidth, but when it's crunch-time in-game, there's not a vast amount more it can deliver than a PCIe 3.0 drive, at least not until Microsoft delivers DirectStorage, which will be exclusive to Windows 11. 
Is PCIe 4.0 worth it for SSDs?
If you want the absolute fastest drives available then PCIe 4.0 SSDs are the way to go. They're quicker than any PCIe 3.0 drive, and will make large file transfers for such things as video editing lightning fast. They will also be prepared for the future of gaming in Windows 11 with the DirectStorage feature being used to take the load off the CPU and fire data directly at the graphics card to improve performance and shorten, or even remove, load times in tomorrow's open world games.


www.pcgamer.com