The League of Legends World Championship, otherwise known as LoL Worlds, is the biggest tournament in the space. It carries with it a massive prize pool, boasts some of the highest viewership figures in esports, and features the world's greatest LoL players. Every time it occurs, millions of fans tune in to catch the action – but it doesn't end there. The League of Legends World Championship is a grand event, and for every iteration, a particular anthem has been used to celebrate it. These anthems simply become known as the LoL Worlds song.
These anthems fall nowhere short of legendary, acting as the battle cry and rousing track for a multi-million dollar event. Throughout history, we've heard eight League of Legends World Championship songs, each one delivering a different message. In some cases, Riot Games, the developer, will employ world-famous artists to create and perform the Lol Worlds song at the opening of the tournament.
It's a tradition – and an important one at that.
Modern Day Musical
Now, you're probably wondering what is the LoL Worlds song for 2021? On the 29th of September, the track was revealed, titled Burn It All Down, performed by PVRIS. Within two weeks, the music video for the track had pulled in almost 12 million views on YouTube alone. It's one of the most wildfire League Worlds songs to ever be released, and it just goes to show the popularity that this tradition has with fans.
Here's the track, for reference:
Although, there's a general consensus online that suggests fans were less than pleased with the overall production of the anthem. There have certainly been better LoL Worlds songs in the past, and Burn It All Down probably ranks somewhere in the middle of the table. In reality, it seems that more work was put into the music video than the music itself – but it's still a great track that'll get fans excited for LoL Worlds 2021.
On that note, if you're excited, here's a guide that'll show you how to watch LoL Worlds live.
Throughout History
When we start looking through all LoL Worlds songs, we see a diverse and vibrant collection. It was in 2014 that the first track was released, and funnily enough, it's widely considered to be the best LoL Worlds song ever created. It was titled Warriors and it was performed by Imagine Dragons, who were reportedly big League of Legends fans at the time.
Since that anthem dropped, many musical fans have created covers of the iconic tune, and today, the music video boasts a count of more than 330 million views on YouTube. It's immensely popular, even today, and every time the LoL Worlds event comes around, fans revisit the anthem.
To put it simply, these tracks must be iconic, as they'll be plastered all over the event throughout its duration. It needs to excite the fans and inspire the players. Therefore, it has to be energetic enough to pump up those sitting within the LoL Worlds power rankings. If the anthem can do that, then it has been successful in its mission.
Here's an opportunity to decide for yourself whether Warriors is the best LoL Worlds song ever: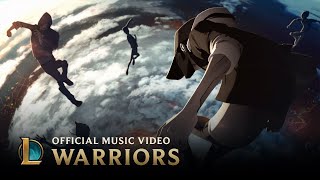 The Crossover
Of course, it isn't just League of Legends that uses huge artists to push its platform ever upwards. In recent years, certain esports and video games have featured prominent artists, reaching out to attract entirely new audiences. For example, there's Fortnite, which has featured in-game events taking the form of grandiose musical performances. In recent years, fans of Fortnite have enjoyed the musical stylings of Ariana Grande and Travis Scott, to name a few, within the game itself.
In August of 2021, popular artist Ozuna established a collaboration with Call of Duty Mobile, offering his brand to the creators. This deal rewarded players with an in-game skin and brought Ozuna's music into the game itself. It's a win-win situation for all those involved, and it adds an effortless burst of creative flair into a video game.
For League of Legends, the LoL Worlds song is a remarkable thing, for every year it is released. Reportedly, artists quite literally jump at the opportunity to record an anthem, and in the past, this prestigious list has included the likes of:
Imagine Dragons (2014)
Nicky Taylor (2015)
Zedd (2016)
Against the Current (2017)
Glitch Mobb (2018)
Cailin Russo (2019)
Jeremy McKinnon (2020)
And now, PVRIS (2021)
It's anyone's guess who will be next, and we won't know until the League of Legends World Championship 2022 event arrives. The 2021 World Championship is live now, and it'll run through to the 6th of November. This is the perfect time to get involved and take part in a little LoL Worlds betting.